Prof Vladan Devedzic
University of Belgrade, Serbia
Teaching intelligent systems: a case with a long history
Abstract:
This talk focuses on experiences with teaching intelligent systems at the University of Belgrade over the past two decades. As the field itself was developing, the courses had to adapt to the new developments and trends, sometimes with warm welcome from the students' side, but not with high enthusiasm at other times. Many lessons have been learned to this end, both pedagogical and practical. Put in the context of varying interests in different AI topics over time, these lessons have been found to go beyond the specifics of the courses that have been taught. Enforcing an interdisciplinary approach when teaching intelligent systems has proven to be the key to gaining students' interest and getting positive reactions. Examples illustrating the lessons learned make a substantial proportion of the talk.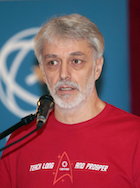 Biography:
Vladan Devedzic is a Professor of Software Engineering at the Faculty of Organizational Sciences (School of Business Administration), University of Belgrade, Serbia. He also used to teach several computer science courses at the School of Electrical Engineering, University of Belgrade, as well as at the Military Academy of Serbia. His long-term professional objective is to bring close together ideas from the broad fields of intelligent systems and software engineering. His current professional and research interests include software engineering, programming education, intelligent software systems and technology-enhanced learning (TEL).
He is the founder and the chair of the GOOD OLD AI research network.
---
Back
to Keynote Speakers