Welcome Drinks Reception and Early Registration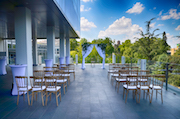 Sunday 2nd September 2018 - 5pm until 7pm
Join us for a welcome cocktail and light snack, a chance to register early for the conference, collect your programme and meet the conference team as we all gather in the stunning 5* Metropole Palace on the terrace of Ivo Andric ballroom.
This event is open to all conference delegates and included in your conference fee.
Evening Social Excursion and Networking
Monday 3rd September 2018 - 6.30pm until 8.30pm
Welcome to the "Belgrade experience." This excursion is a few hours long and will take place after the conference sessions end. It is a combination of bus trips and walking tours in Belgrade where you will experience the most interesting parts of the city. The tour includes St. Sava Temple, Parliament buildings, Terazije and Republic Squares, Pedestrian street Knez Mihailova and the Belgarde Fortress.
We strongly advise you purchase your tickets when you register for the conference to avoid disappointment! This will be on a first come, first served basis. We are already at 50% capacity so please register before you arrive at KES2018 to avoid disappointment.
€40.00 per person including a soft drink on route!
Please gather in the foyer at 6.15pm. Coaches will depart the Metropol Palace Hotel promptly at 6.30pm.
Gala Dinner and Awards
Tuesday 4th September - 7.00pm
Join us at the annual conference gala dinner at "Topciderac" where we will be having a fun evening celebrating 22 years of KES International with our award presentations after dinner.
The unique resorts complex "Topčiderac" is located in the most beautiful location in Belgrade, in the very heart of Topčider hosting top international and domestic cuisine.
The evening also encourages social interaction and networking with your colleagues from around the globe! The conference gala dinner will take place on the evening of Tuesday 4th September for those with Full Registration or who have purchased a ticket. Additional dinner tickets can be purchased through your registration on line or at the registration desk for 75 euros.
Please gather in the foyer at 6.30pm. Coaches will depart the Metropol Palace Hotel promptly at 6.45pm.
---